Quality and Environment Management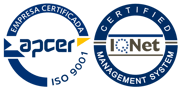 RHmais has its Quality and Environment Management System Certified, in accordance with the NP EN ISO 9001:2015 and NP EN ISO 14001:2015 standards.
The scope of its certifications covers all the services it currently provides, which means that all the activities it develops with its Customers are certified.
Scope of Certifications: Recruitment & Selection, Consulting and Training Services in the areas of Human Resources and Management Systems, Implementation of Quality Systems, Outsourcing, Handling and Management of Customer Assistance Services and Contact Centers.
RHmais has been certified by NP EN ISO 9001 since 2002 and by NP EN ISO 14001 since 2014.
Licensing for Handling Services
In the scope of its Handling activity, RHmais is licensed by ANAC - National Civil Aviation Authority (Autoridade Nacional da Aviação Civil) for categories 1 and 2, administrative services and assistance to passengers respectively, for Lisbon, Porto and Madeira airports.
Certification as a Training Entity


RHmais is certified by DGERT - General Directorate of Employment and Labor Relations (Direção Geral do Emprego e das Relações de Trabalho) as Training Entity (Process C3102) in the following areas of Training and Education:
090

- Personal development

146

- Training of teachers and trainers in technological areas

222

- Foreign languages and literatures

341

- Commerce

342

- Marketing and advertising

344

- Accounting and Taxation

345

- Management and administration

346

- Secretariat and administrative work

347

- Fitting into the organization/company

380

- Law

482

- Informatics from the user's perspective

729

- Health - programs not elsewhere classified

762

- Social work and guidance

811

- Hospitality and catering

812

- Tourism and leisure

862

- Occupational safety and health